Welcome to my very own newbie starting guide! Here I will go over the first steps of your new born avatar in the world of L2Knight.
We also have a server database that contains all NPC information including their drops and locations here:
http://51.81.32.185/l2knight_info/index.html
The database above is very helpful for players to figure out where to go when they want a particular drop like NG scraps and more.
Level 1: You are born! Yay! Now what is going on? What do I do? Are there quests?
You may be asking yourself these questions and that is good! Let's start with the basic. The image below is picture of what your UI should look like. You will notice on the left there is a pop up window that says to join a clan. Do it. Pick whichever one you like. Both clans are great and will help you level by bringing you together with other players. Golden is usually NA players while DL is more EU peeps. But you can pick whatever!
You will also notice a chat window, hotkey bar, and your basic shortcuts at the bottom right. To speak to the world you can type & before your sentence to speak to the world. For example: &hi everyone! Im new, where do I go?
This is a great way to introduce yourself to the players and get started with the game.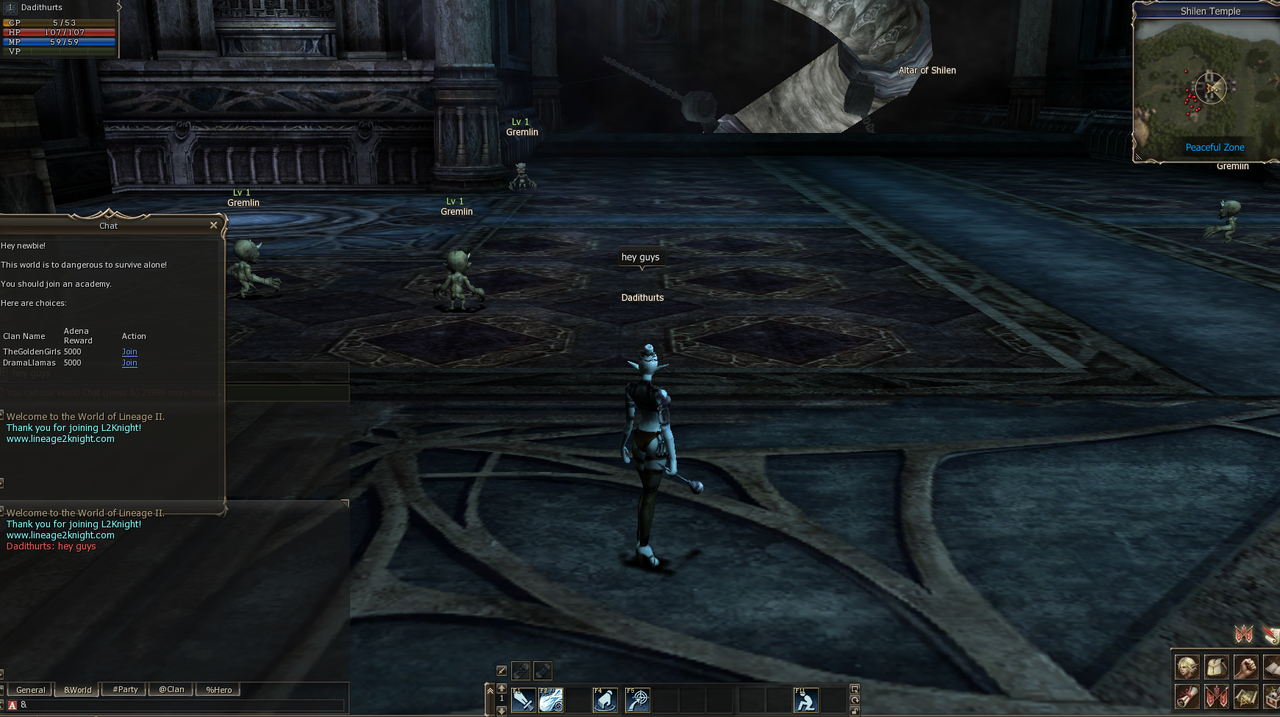 Next is the hotkey bars. Make sure to click K to open up your skills and place any skill you can learn onto your bar.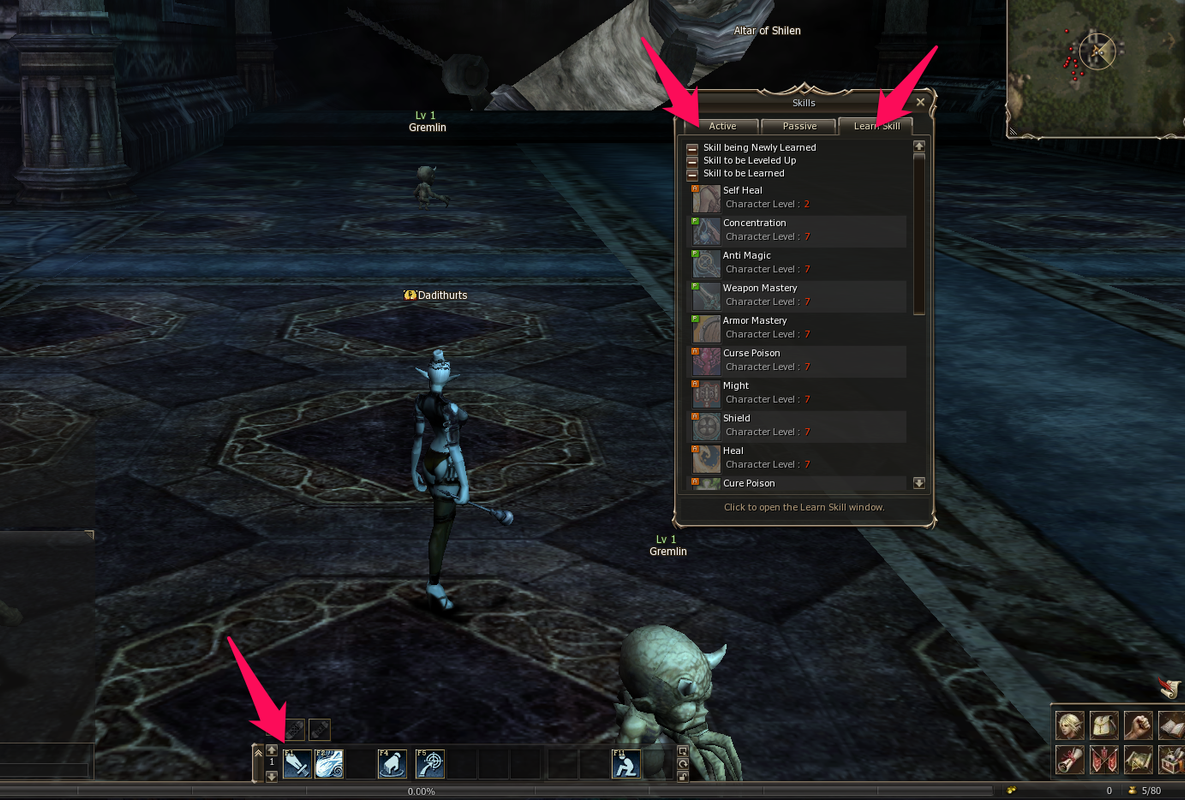 After you have your hotbars, introduced yourself, and joined a Clans Academy, it's time to start your adventure! If you started as a Human or Dwarf, then you are all set and don't have to worry about these next few steps. If you decided to roll any other race, please continue reading these following steps:
1-5
You have two options here. Either farm the mobs around you and level up the old school way with good ol grinding. Or go pick up quests at Talking Island or Dwarven Village. Below are three images that explain more.
Here you can find on Talking Island the fighter classes starting
Quest Giver
, the
Newbie Guide
. You should start here at Cedric's Training Hall if you decided to play a fighting class. OR you can go to the 3rd image as well which is Dwarven Village.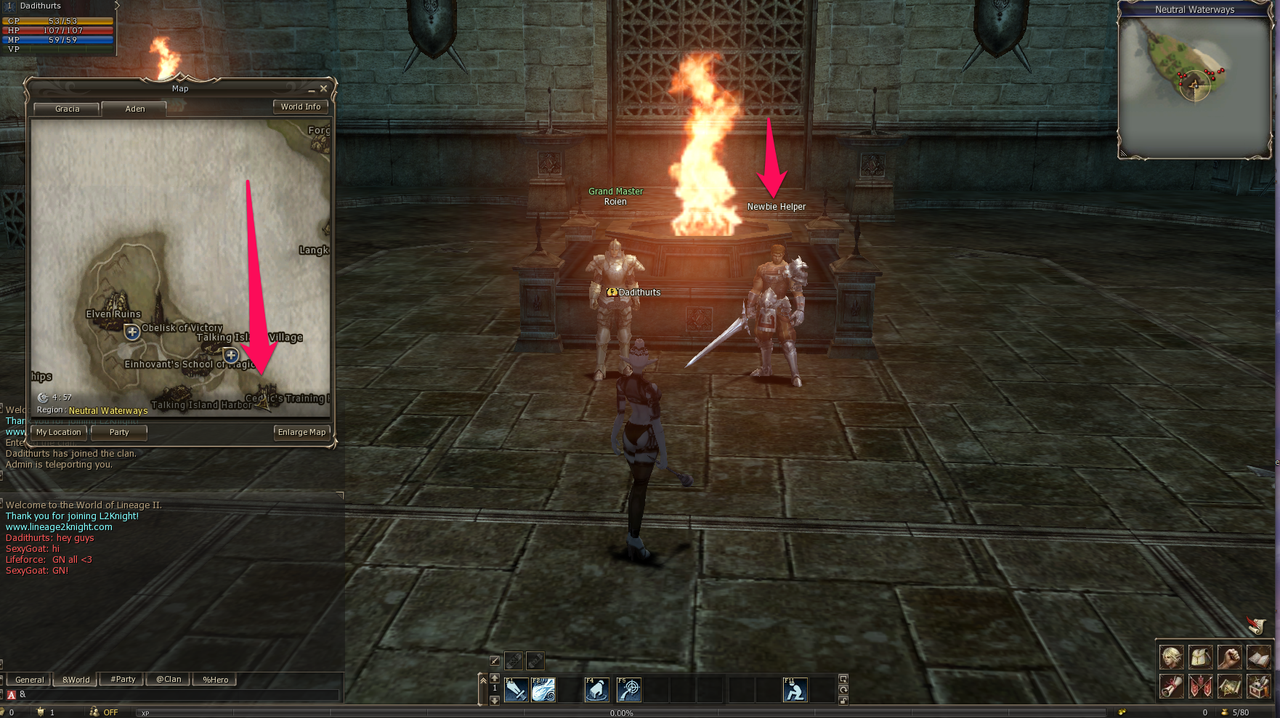 If you rolled a mystic class, you will need to go either here to Einhovant's School of Magic in Talking Island or again the 3rd image area which is Dwarven Village. Here you can pick up the mystic starting quests by speaking to the Newbie Guide again. This quest line will reward you mystic gear.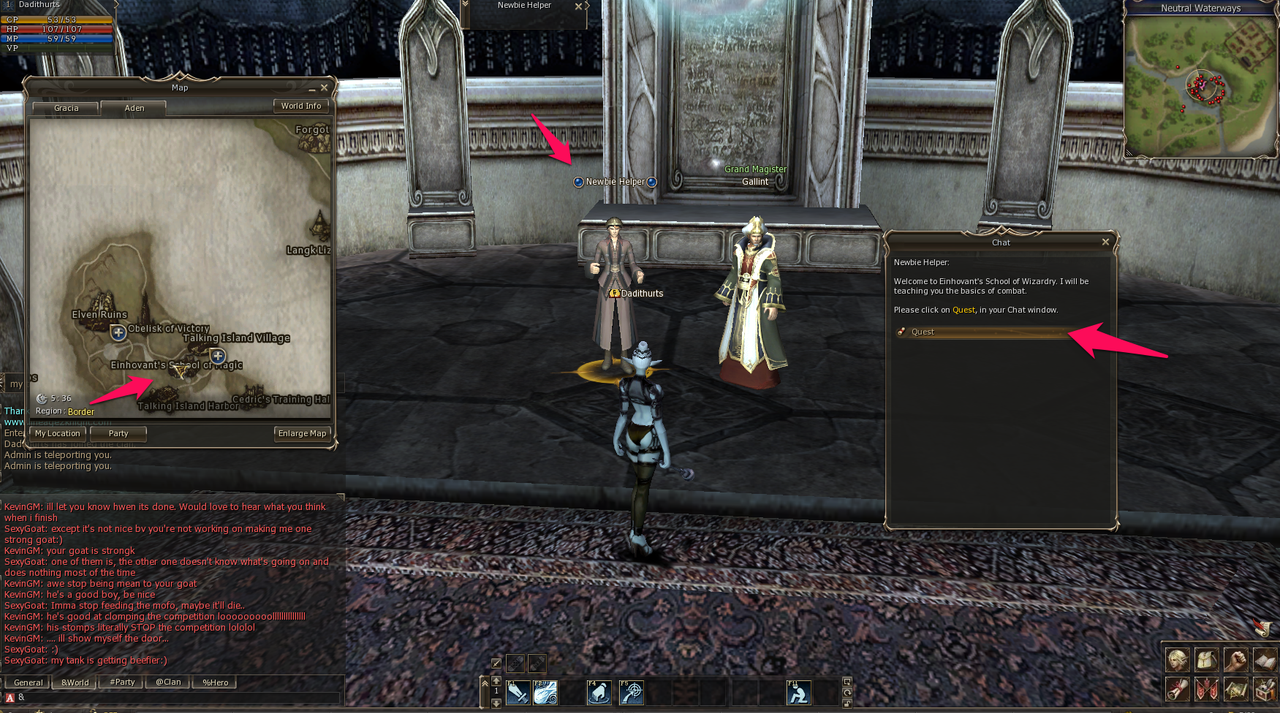 Your third option is Dwarven Village. You can head here if you like to quest in the lovely snowy mountain tops of Mord.... I mean Spine Mountains. Speak to the Newbie Guide here in the image to get started.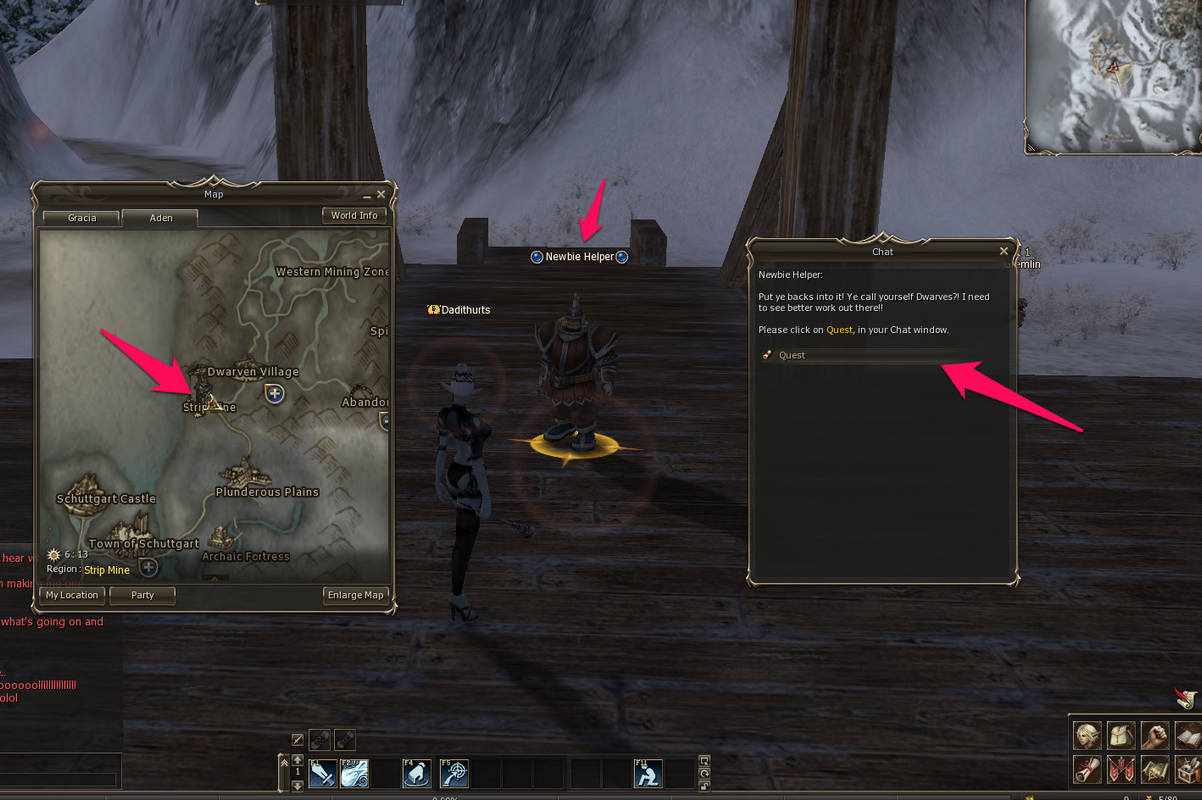 Make sure to
READ
these starting quest dialogues. They will point you towards the areas you want to farm for NG materials and NG scraps. Continue quests until you can't. Very quickly you will finish the starting quests and will not be able to pick up the next quest because your level is to low. This is fine. You now need to farm by killing mobs for EXP and materials/scraps for gear. Continue this guide to learn more about how to gear your new character!
5-10
Okay, so now you completed your starting quests and kinda ran out of quests to do. What next? Great question! You may have noticed you had collected some items like these: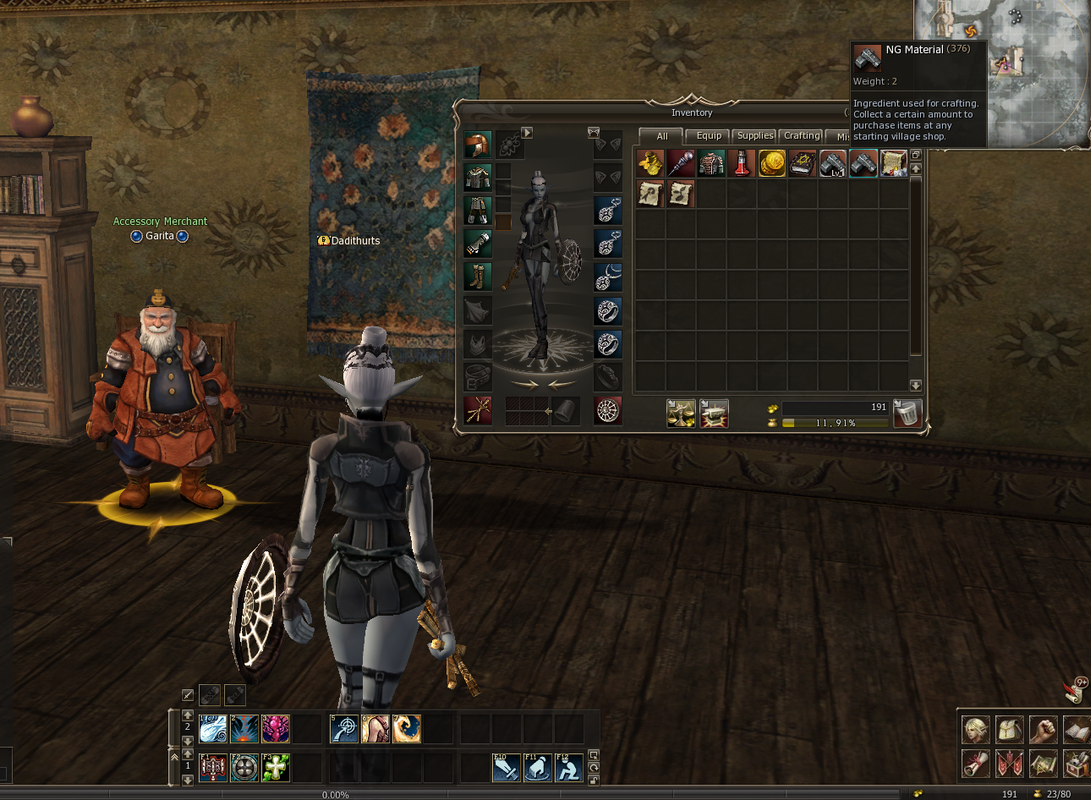 and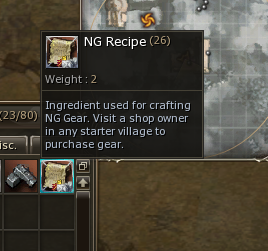 These items are the crafting material of the server. You collect these by simply killing monsters in the world of rewards from quests or even daily missions. Once you have collected enough, you can go to shops in town to purchase gear.
Let's use the accessory merchant as an example. You can do this for the Weapon Merchant, Armor Merchant, and Accessory Merchant. Every merchant has the same trading system that requires a number of Materials, Scraps, and Adena. Some gear will require the weaker version of the same gear type. Let me show you below: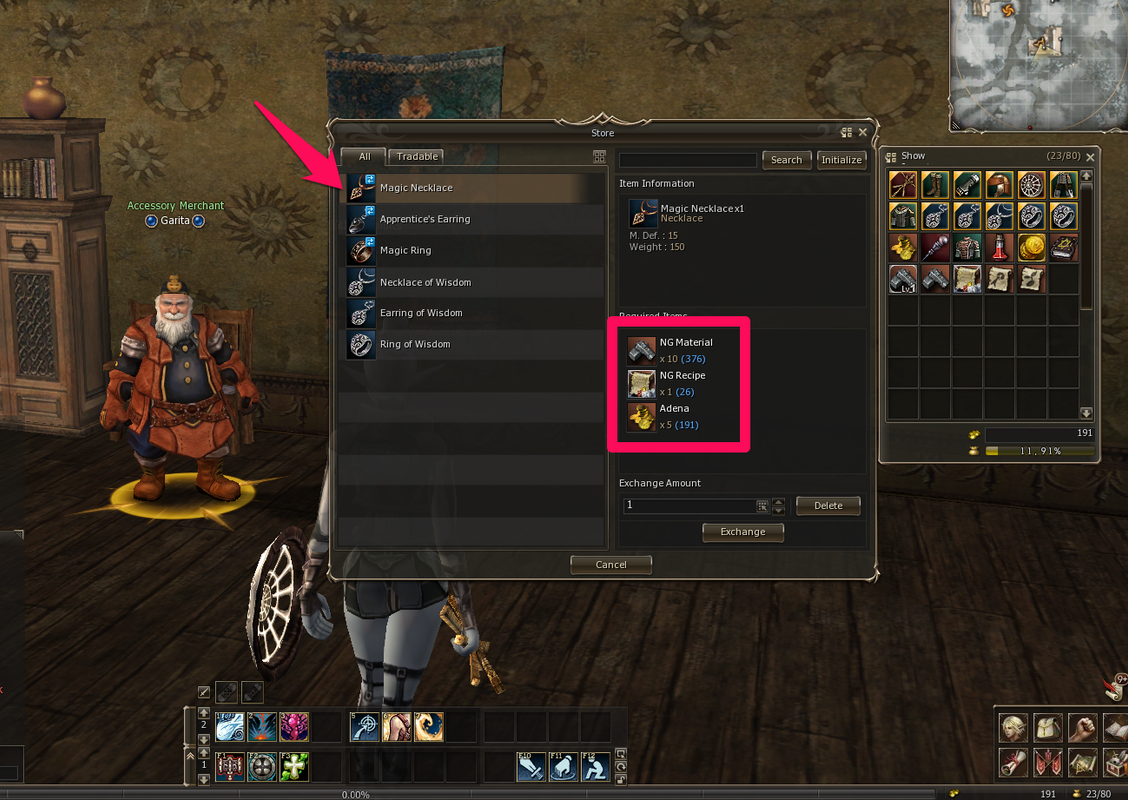 As you can see in this image, the accessory merchant is requesting I hand over X number of Materials and X number of Recipes and Adena. If I collect enough from killing monsters, then I can purchase that item. Simple! Right? Yup, that's it. No catch.
11+
Now that you collected material and have the basic NG set on. It is time for you to set forth and start killing 11+ monsters and tackle higher lv quests. Be careful and make sure to bring friends with you. The world of L2K is large and dangerous. Keep hunting to collect materials so you can craft better gear and venture forth!
Once you hit lv 18 make sure to do your class transfer quest by speaking with Serbion in Gludin Village here: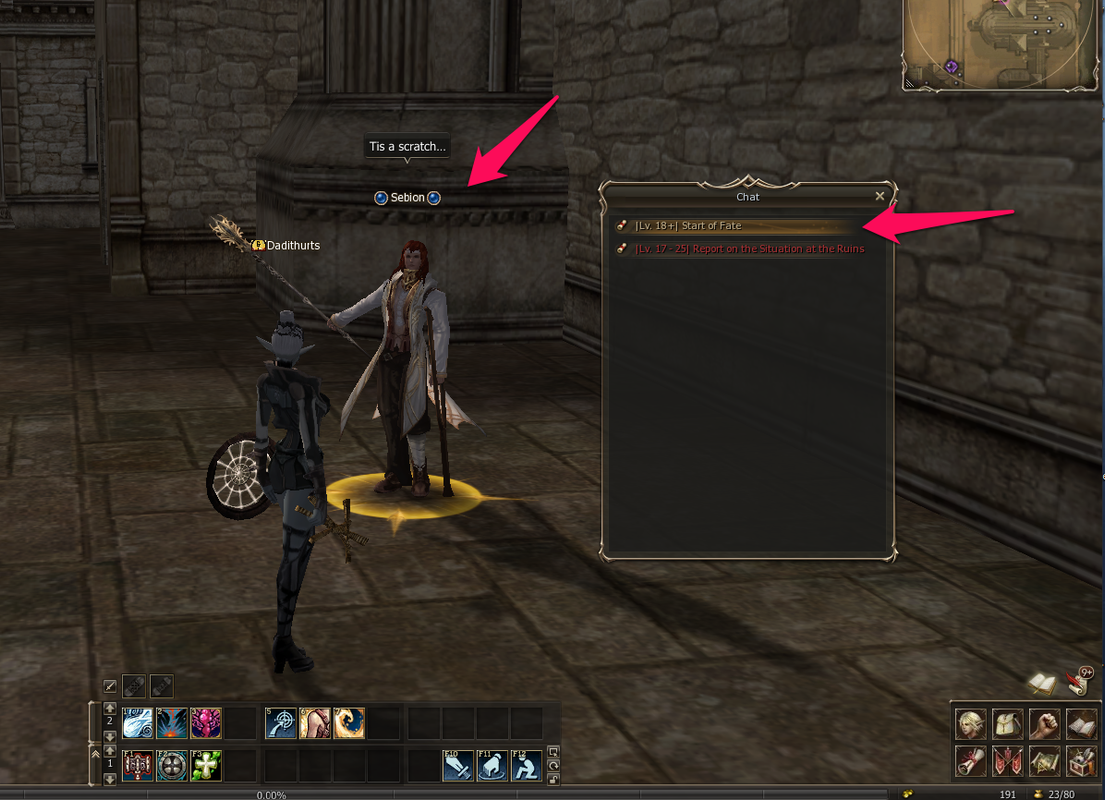 He will send you to
Kamael Village
where you need to find your races Class Master. Speak with them and you will instantly hit lv 20 for free and change into your new upgraded class! Wohoo!!